TWITTER FEED
$SUB and coffee part 2 https://t.co/FZI9rBMaCI
$SUB and coffee https://t.co/Mm03R57APi
Just ran a successful test of @SubstratumNet node 0.2.0 on my Mac... Seeing it work.... and work fast.... oooooh myyyyy goodness..... Buying more $SUB tonight.
@udioeater and I was able to wrap up the automated exec signing continuous integration job for Linux today. Nearly got the Windows job completed but it's being stubborn. Mac shouldn't complain too much. This sets us up for more fun release ops work for deploys to our website $SUB
We've got another good meetup coming up on the March 27th with @dnwiebe speaking and answering really great questions! Don't miss this! We may figure out a way to stream it. Q/A will be public

Substratum Blockchain and Cryptocurrency Meetup
https://t.co/OjKo2ByYUg

$SUB #SUBLOCC
$SUB and Coffee tomorrow at 7:45 EST @SubstratumNet fans. Join me.
Show your #Substratum Pride on your iPhone or Android with this background image.

Download here:

https://t.co/fBvleiz3PV

Enjoy!

$SUB #cryptocurrency #technology #bitcoin #blockchain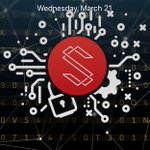 Wow...this open-source stuff is wayyy more complicated than just flipping repos public. Legal stuff, license stuff, history stuff, configuration stuff, practice stuff...whew.
I have just finished Substratum Node 0.2.0 test on Windows 64. It worked like a charm. Go @SubstratumNet, make the web decentralized! $SUB
#Substratum Weekly Update Video 3.16.18

Here is the update video from last week. It was pushed to YouTube Friday but was missed here on Twitter.

Full Video: https://t.co/taCzmi9SpM

$SUB #cryptocurrency #bitcoin #blockchain #technology $BTC
So two small tech-debt stories are done but not merged (they have to be reviewed and approved first, which is easiest during the week). Hopefully soon we'll part out the https epic and get started on it; it's the major feature of the next release.
Load More...