TWITTER FEED
Videos of all presentations at NEO DevCon have been uploaded to our YouTube channel.
Let's look back to this magnificent gathering. Enjoy!
https://t.co/omhj872YdF
Teemed with passion among community members and developers, APAC Tour ended on March 16th. Take a brief look at the summary of APAC Tour.😄
https://t.co/9DgLW9xcrv
A case of lost in translation. What I really said is "fractional reserve is cheating". How and when to distribute GAS is at exchange's discretion. I have no reason to doubt the integrity of upbit. https://t.co/CQ9dbsi1Ei
NEO warmly welcomes all Blockchain enthusiasts to the APAC March tour. So far there are still a few spots available for the Seoul meetup on March 16, where @dahongfei will give a speech. Don't miss the chance to learn about NEO and meet the community.

https://t.co/KeCLn6SJmA
Dear all, project submission of the 1st NEO Dev Competition will close within only 3 days! The deadline is 23:59 (UTC+8), Mar. 10, 2018.
Please pay attention to your time and submit your project as soon as possible.💪
Submission page: https://t.co/rYLb2PMMPB
NEO will have a workshop in Ho Chi Minh City at 16:00-17:00 on 8 March.
@Deanpress will host a hands-on developer workshop on "Learn how to build applications on NEO blockchain". Welcome developers to attend!

https://t.co/jMGth8j8kz
Below Lerider's first explanation in Discord is his immediate speculation. Any further cascaded speculations based on that cannot be true.
Please refer to @neoerikzhang 's latest tweet and the last blog post of @MalcolmLerider for correct explanation.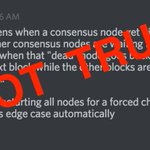 We found some connection problems in NEO P2P protocol weeks ago which may cause temp communication pause after long run of consensus nodes. it automatically recovers after certain time. A patch was released and tested last month on testnet. Will deploy it on mainnet this week.
I just published"NEL Monthly Report for February, 2018" https://t.co/Zxxz0myCbW
NEO Seoul Meetup agenda is just published!
This is the last stop of NEO APAC Tour. @dahongfei and several neo-based project founders will be there. Check below webpage for agenda and registration.👇
https://t.co/KeCLn6SJmA
NEO APAC Tour Melbourne meetup agenda has been revised. DA Hongfei, RMIT Blockchain Lab, OntologyNetwork, MatchupBox, Moonlight, Hashpuppies, Alchemint, Qlink and NEOResearch will present at the event.
https://t.co/UOYSx2MTRW
NEO APAC starts tomorrow! There are still some seats available for Tokyo on 3/5 and Taipei on 3/11. Links to registration are below.
Taipei: https://t.co/qSBwXXqbiA
Tokyo: https://t.co/rscVQfQVIH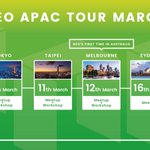 Attention:Submission Deadline for the 1st NEO Dev Competition is approaching! Come on guys. https://t.co/r8OnESTMoV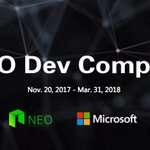 We are happy to be the 1st ever blockchain to receive A-class rating by Weiss. To make it clear, as of today, we were never in any form of contact with Weiss. I'm also looking forward to this: https://t.co/zpiunHhGth
NEO developer workshop by CoZ and NEX is coming! See you on March 9th on Cambridge.
https://t.co/CeCc0n4GXl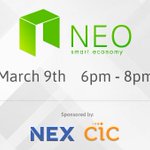 Load More...